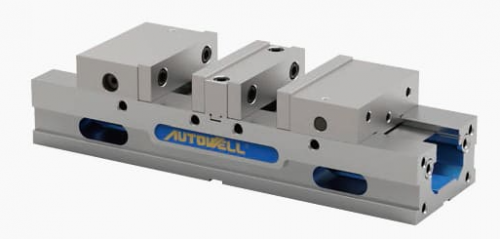 TLD- Lockwell Double Station Vices By Autowell
£

701.10 –

£

782.10
TLD- Lockwell Double Station Vices By Autowell - TLD VICE
1. Double station could clamp two dissimilar workpieces with same force at a time and provides 6 different clamping positions.
2. Clamping Force Equalization (patented) ensures same clamping force to clamp two different size/shape workpieces and avoid deflection and lift.
3. Lock well Anti-Lift Mechanism (patented) & Automatically Return Mechanism (patented) ensures the workpiece does not deflect and lift.
4. Rigid and tensile ductile iron FCD-60 (80,000PSI) vise body. Slide surface flame hardened to HS65° to maintain the accuracy. S50C jaw-plate has been Carburizing heat treated the hardness to HRC54°.
5. Unique design facilitates the evacuation of chips.
6. U.S.A. patented.