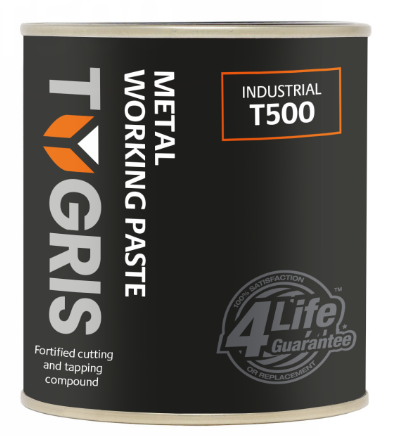 T500 Industrial Cutting Tapping Reaming & Metal Working Paste By Tygris
£

12.62

Other Tygris Products available Please call our sales office for quotes.
T500 Industrial Cutting Tapping Reaming & Metal Working Paste By Tygris - T500
TYGRIS Metal Working Paste is a soft paste which has been reinforced with the most effective Extreme Pressure additives to give high film strength and anti-weld properties which are essential to counter the pressure developed during metal working.
It can be used with hard metals to reduce heat and improve the dimensional stability of the surface finish.
Designed for cutting, tapping, drilling, reaming, drawing, pressing, extruding and forming.
Benefits:
Effective on stainless steel, titanium and light alloys;
Extreme Pressure additives;
Extends tool life; Fortified with molybdenum for reduced wear;
Improves surface finish; Greater dimensional accuracy; Non hazardous;
Reduces heat build up
Consult the safety data sheet prior to use – suitable Personal Protection Equipment should be worn.
Apply to the tool or workpiece by brush or by dipping the tool bit into the tin.
Dispose of waste in line with local and national regulations.