SIP 8″ Swivel Metal-Cutting Bandsaw
£

1,722.00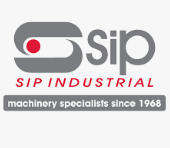 SIP 8″ Swivel Metal-Cutting Bandsaw - 01593
The SIP 8″ Swivel Metal Bandsaw features a heavy-duty cast iron bow for improved accuracy, 4 cutting speeds, and a strong wheel-mounted frame.
Perfect for professional workshop environments.
230v (13amp) input supply
1.1kW (1.5hp) induction motor
4-speed: 22/33/45/65 mtr/min
Complete cutting capacities:

0°: 178mm (round) / 178 x 210mm (box)
45°: 127mm (round) / 85 x 140mm (box)

Adjustable vice for cutting angles between 0° & 45°
Limit switch to stop machine when cut is complete
Cast iron bow for reduced vibration and accuracy
Built-in coolant system for efficient cooling
Full stand and blade included
Note: Not suitable for cutting rebar or high tensile steel.
SIP are machinery specialists, with our catalogue featuring welding, metalwork, air compressors and tools, battery chargers, lifting, heating, power, woodworking, and cleaning equipment