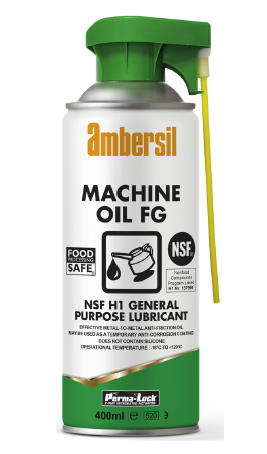 MACHINE OIL FG By Ambersil
MACHINE OIL FG By Ambersil - 30247-AA
Machine Oil FG is a general purpose lubricant and penetrating
oil.
An extremely efficient and effective general purpose lubricant
for use on food processing equipment where incidental food
contact may occur.
Based on pharmaceutical grade highly
refined white oils.
Machine Oil FG exhibits excellent penetrating
ability and loosens rust, scale, dirt and corrosion to free parts
and fasteners.
Creates an effective water-repellent film, that prevents corrosion
and lubricates efficiently over a wide temperature range.
Contains no silicone.