Element Low Profile Magnetic Limpet Drill By Rotabroach 110V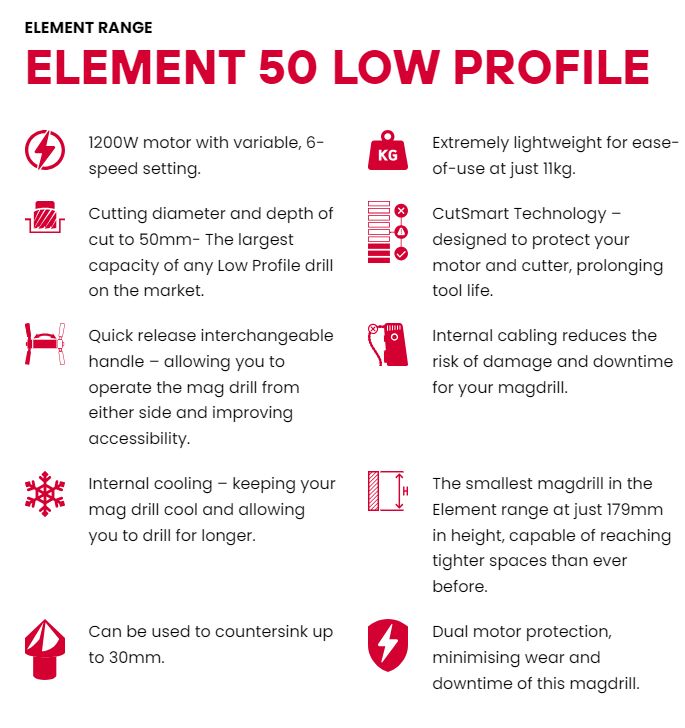 Element Low Profile Magnetic Limpet Drill By Rotabroach 110V - ELEMENT 50 LOW PROFILE
THE ELEMENT 50 LOW PROFILE
AS THE LARGEST CAPACITY LOW PROFILE MAG DRILL ON THE MARKET, THE ELEMENT 50 LOW PROFILE COMBINES AN IMPRESSIVE 1200W MOTOR WITH A BODY OF JUST 179MM/100MM/329MM.
THIS COMPACT POWERHOUSE CAN REACH ANY AREAS INACCESSIBLE TO A LARGER MODEL WITHOUT COMPROMISING ON PERFORMANCE. CUTTING TO A DEPTH AND DIAMETER OF 50MM, THE DRILL OFFERS A QUICK RELEASE INTERCHANGEABLE HANDLE FOR CONVENIENCE ALONGSIDE INTERNAL COOLING AND CABLING TO REDUCE DOWNTIME AND RISK OF DAMAGE.
AS WELL AS THIS, IT IS CAPABLE OF COUNTERSINKING UP TO 30MM (REQUIRES AN EXTENSION ARBOR -RD32059)
ALSO PACKED INTO ITS ULTRA-LIGHT 11KG FRAME, THE ELEMENT 50 LOW PROFILE UTILISES ROTABROACH'S INNOVATIVE CUTSMART TECHNOLOGY, DESIGNED TO PROTECT BOTH MOTOR AND CUTTER TO MAXIMIZE TOOL LIFE AND EFFICIENCY.
THIS DRILL COMBINES POWER AND PORTABILITY WITH ITS STATE-OF-THE-ART DESIGN, HARNESSING ROTABROACH'S REPUTATION FOR QUALITY AND RELIABILITY TO PROVIDE OPTIMAL PERFORMANCE.