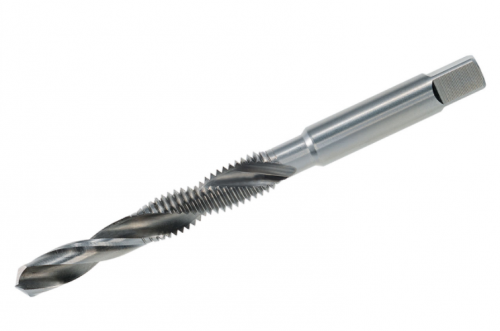 Drill-N-Tap Combined Machine Tap By Volkel
£

15.16 –

£

121.28
Drill-N-Tap Combined Machine Tap By Volkel - 20-365
The Combined Tap enables the user to produce the tapping drill hole and the through thread in one operation without any tool changing.
The tool incorporates a twist drill before the thread tapping part.
This tool can produce through threads up to a maximum threaded depth of 2 x D.
The Combined Tap is suitable for universal use in materials of medium mechanical strength: non-alloyed and alloyed steel sorts up to 600 N/mm², malleable cast iron, noduli zed graphite cast iron, copper, brass, aluminium, aluminium-magnesian zinc alloys, red bronze, electron metal, pressure-cast zinc.
This tool should be used on machines possessing an Switchover facility for drilling and tapping.
The feed rate must be adapted to the particular operation required – drilling or tapping.
Tapping chucks with pressure compensation may not be used.
| | |
| --- | --- |
| Brand | Volkel |
| Drill n Tap Size | |