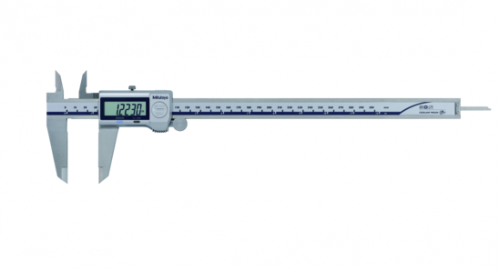 ABSOLUTE Digimatic Coolant Proof Caliper 0-300mm / 0-12″ By Mitutoyo 500-764-10

ABSOLUTE Digimatic Coolant Proof Caliper 0-300mm / 0-12″ By Mitutoyo 500-764-10 - 500-761-10
A Mitutoyo waterproof digital Caliper suitable for use in the presence of coolant or cutting oil.
Hardened stainless steel construction and equipped with standard outside and inside jaws.
ABSOLUTE System scale for error free, high-speed measurement.
SPC data output.
ABSOLUTE Digimatic Measurement
Absolutely safe, absolutely ingenious:
The ABSOLUTE system. All Mitutoyo measuring instruments with this logo incorporate the ingenious ABSOLUTE measurement system.
An ABSOLUTE scale only needs to have the origin position set once, which then holds for all future measurements, no matter how often the instrument is switched off.
Incremental measurements can be made at any time without losing the origin setting.