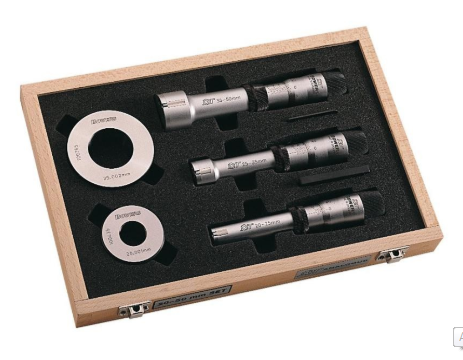 Bowers XT Bore Micrometer Sets 10mm-100mm
£

661.50 –

£

1,369.98
Bowers XT Bore Micrometer Sets 10mm-100mm - SXTA
Analogue Bore Gauge – Sets – Metric
Bowers XT Analogue Bore Gauges are an economical solution to accurate shop-floor bore measurement.
The extended mechanical travel of these advanced two or three point gauges ensures that exchanging measuring anvils is now unnecessary.
Their wide application range, 2-300mm, rugged construction and easy read scale, ensure both accuracy and ease of use.
XT measuring heads and setting rings are supplied with UKAS certification.
Features
 Range 2-300mm (0.080″-12″)
 2-6mm 2 point / 6-300mm 3 point measurement
Graduation 2-6mm: 0.001mm, 6-300mm: 0.005mm
 Tungsten carbide measuring faces on all 3-point heads from 12.5mm
 Blind bore measurement from 2mm-6mm and above 12.5mm (0.500″)
 Extensions available above 6mm for deep hole measurement
 Ratchet stop to ensure consistent measurement
 Setting rings included with individual instruments and sets
 UKAS certificates supplied as standard with all setting rings
 UKAS certificate supplied as standard with all XT mechanical micrometers
 Serial number on all gauges
 Bore gauges manufactured according to DIN 863, part 4
 Supplied in fitted case