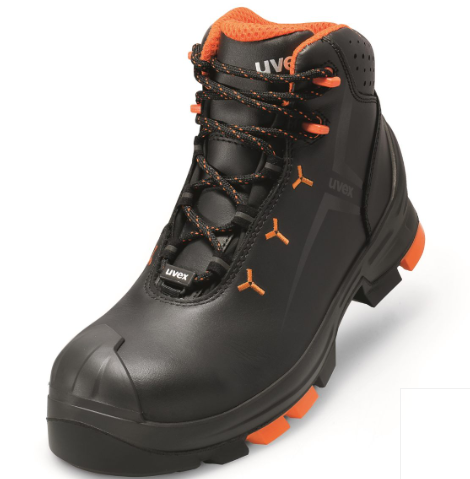 Uvex Leather Multi-purpose Safety Boots
£

104.03

Protection features
Protection class S3 in accordance with EN ISO 20345:2011 with additional marking for excellent slip resistance (SRC)
Meets the ESD specification with bleeder resistor under 35 megaohms
100 % metal-free uvex xenova® toe cap and penetration-resistant xenova® midsole – compact design, anatomical shape, good lateral stability, no thermal conductivity
Penetration-resistant, non-metallic uvex xenova® midsole – does not restrict flexibility of the shoe
ergonomically designed outsole made from dual density polyurethane with a rough, self-cleaning tread and excellent slip resistance secure grip even when climbing on ladders due to the stabilising arch support reflective elements at last and laces.
PLEASE NOTE 7/10 DAYS DELIVERY
Uvex Leather Multi-purpose Safety Boots - Uvex Leather Multi-purpose Safety Boots
uvex 2 safety footwear – pushing the limits
Superior in all disciplines. The innovative uvex 2 safety shoe range in protection classes S3 and S1 P is up to every challenge: optimal shock absorption, ergonomic fit, low weight and excellent climate characteristics ensure maximum performance at work and redefine the limits for safety shoes.
General features
low-weight and flexible S3 safety boot
all sole materials are free of silicones, plasticisers and other paint-wetting impairment substances
foamed polyurethane scuff cap helps protect upper and increase product life
colour: black, orange