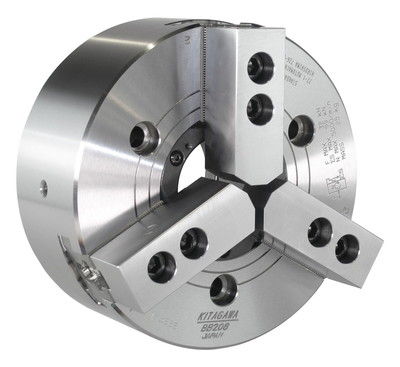 Kitagawa BB208 210mm-Large Thru-Hole Power Chuck
£

1,907.00
Kitagawa's leading large through hole power chuck.
This Chuck is not supplied with ANY Jaws.
Kitagawa BB208 210mm-Large Thru-Hole Power Chuck - BB208
Kitagawa's chucks are manufactured from high grade alloy steel. Three jaw wedge style power chucks deliver up to 20% more speed, gripping force and bore size when compared to conventional chucks.
Through-hole (mm): 66
Plunger Stroke (mm): 16
Max. Input: 32 kN, 3263 kgf
Max Speed: 5000rpm
Weight (with soft jaws) 23kg
Moment of inertia: 0.143 kg.m2
Matching cylinder: SS1666K
Max pressure: 2.34 MPa, 23.9 cm2
Matching hard top jaw: HB08B1 or HB08A1
Optional soft top jaw: BA-08,PT-08-DJ-08